E Komo Mai! (Welcome)

Have you considered taking hula lessons, but not sure if it's a good "fit" for you? Brevard Hawaiian Dancers has created an affordable 6 week beginner course designed specifically for people who would like to give it a try. Our 6 week course introduces new students to hula basic steps, Hawaiian language and Hawaiian culture. Once the 6 weeks is completed, if you choose to further your education, you will be placed in a class that best suits your needs and abilities. We offer this 6 week course to wahine (women), and NOW FOR THE KANE (men)!

When will the next 6 week course begin?
Sunday January 21st (ADULTS) at 3:15 PM- Location - David Schechter Center 1089 S. Patrick Dr. Satellite Beach

Sundays (Keiki / Kids) at 10:30 AM (ages 2-5), 11:15 AM (ages 6-11) Location - Brevard Hawaiian Dancers - 1089 S. Patrick Dr.
**Beginner Kids Can Start Any Saturday Morning At The Satellite Beach Location.**
**Their class is continuous (not 6 weeks) and payments are made on a monthly basis.**

You may register and pay for your class below. Payments can also be made by cash or check at your first day of class.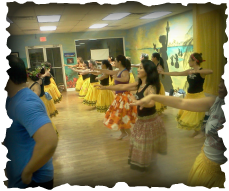 Class Description:

The 6 week beginner course is designed for brand new students. You will learn the fundamentals of Hawaiian dance basic steps. These steps are the foundation for Hawaiian Dancing. In addition to the lower impact class, you will receive hand outs which explain and break down into words each movement. We also offer on line training videos of these basic steps to those who are interested.


What To Bring / Wear:

Traditional Hawaiian Dance is always performed in bare feet. We normally prefer that students wear a Pa'u skirt (shown in this photo), or a sarong during class. If you do not have a sarong, we will have extras. Be comfortable in shorts and a t-shirt or tank. Also bring water.


---
Registration:
To register for this course, please fill out the registration form below or email.
brevardhawaiiandancers@gmail.com
Space is limited and Pre-Payment and Pre-Registration is required to reserve your space.
We encourage pre-payment on line through the website to reserve your space. (See below) Cash, Check or Credit Card will be accepted. Checks to be made out to Brevard Hawaiian Dancers.